I would like to share with you the story of the woman with the bottle of oil, the fears she faced, her victory and miracle. I took this story from the Bible, and for the story-line added scenes but the story remains the same; the Lord came through! The prophet's name is Elisha, the bible does not tell the woman's name nor of her children. I hope you enjoy the story and find hope in what God can do with what you have when you let Him use it.
2 Kings 4:1-7
What am I to do? I am in debt and my children's father is no longer with us; he passed away. I do not have the money and the collectors will expect to be paid. I am so scared they will come to my door soon and take away my boys and make them bond-servants. "Will they sell them to a far off country", "Will I ever see them again", and, "Will they be alright", these are the fears I face each day. Someday, my greatest dread may come knocking on my door.
We stood in silence hugging each other, afraid to move. Will they go away or will they break down the door?
"Nooo", I whispered, "Nooo", as I wiped the tears from my eyes with my apron, I hugged my children and began to pray silently, but with a desperation that only a mother can know when she fears losing her babies.
Then, silence. We waited for what seemed an age before we began to move about in the darkened room; we do not light any lamps out of fear of being found out.
A
fter a while one of my sons wanted to go outside and we ventured out cautiously. A stranger approached my sons and they tur ned and faced me. The man also tur ned around and started walking my way. "It's a trap!", I thought. He looked very serious and I became afraid to run. Then, I realized it was Elisha and I hurriedly went to speak to him. I could not help it, my eyes filled with tears as I tried to speak calmly.
"Now a certain woman of the wives of the sons of the prophets cried out to Elisha, "Your servant, my husband is dead, and you know that your servant feared the L

ORD

; and the creditor has come to take my two children to be his slaves."
"What do you have in your house", he asked?
What do I have? I thought his question strange and must have shown it on my face when he asked if there was a problem?
I explained my financial situation and my fears to him. I felt he understood my plight, since, he listened so intently and did not walk away.
After I finished speaking he asked again, "What do you have in your home", as if though I was overlooking something. I told him I have a bottle of oil left.
He looked at me and my sons and advised us to borrow from our neighbors every jar, bottle and container we could and to not stop with just a few, then pour out the oil until every jar is filled. We hurriedly asked our friends and came back with so many vessels that I wonderingly thought, "What are we going to do with them all", when I began to pour from our small vessel of oil into the other jars.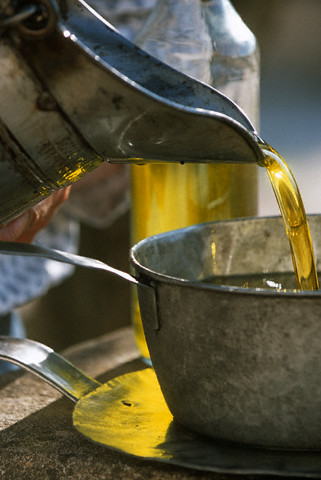 The oil kept flowing and filling every container in the room and when I asked if there was another vessel? No, Mother, that was the last one
, was my son's reply.
I set down my bottle that still had oil in it and went and told Elisha. He then told me to take the oil and sell it. I was amazed and excited all at the same time. I would be able to feed my sons as well as pay off every debt!
That night, when all were asleep, I crept to the larder and reached for my own bottle of oil and wondered about it. As I held it in my hands, my eyes welled up with tears; it was a miracle, indeed. I cried with joy and my heart was glad.
I felt relief and became hopeful for the first time
since my husband died. Jehovah had changed my situation with a miracle: He used what I had to show how He can make much with so little. With gratefulness of heart, I said my prayers and went to bed. That night, the fear had left me and I slept the sleep of the beloved.
Psalm 127:2
It is vain for you to rise up early, to sit up late, to eat the bread of sorrows: for so he giveth his
beloved
sleep
.
God
will use what you have for your miracle to happen; the oil of His anointing, if we would let Him use it

. His goodness overcomes our worries and calms our fears.
To God be the glory for the things He has done and will do for you!