Thursday to Sunday
My son, Christopher, went on a Youth Retreat with several young people from our church. Oh, how I missed him and could not wait to see him. Since they were going to be up in the mountains he did not take his cell phone with him. How I missed talking to my son. But as soon as he came home and with a big smile he gave me the biggest bear hug he could give. He said, "Mom it feels so good to be home, I missed you, Mom". He began to tell me about his trip, who preached, and what the messages were about. I couldn't get enough time in the day to just listen to my son tell of the blessings of the Lord. He was only gone from Thursday through Sunday but it seemed like such a long time. Ahh, my friend, when my son came home it felt so good to see him.
Mark 16:1
And when the Sabbath was past...


John 20
The first day of the week cometh Mary Magdalene early,
...unto the sepulchre, and seeth the stone taken away from the sepulchre...
Then she runneth, and cometh to Simon Peter, and to the other disciple, whom the Lord loved, and saith unto them, They have taken away the Lord out of the sepulchre, and we know not where they have laid Him...
So they ran both together…
and looking in, saw the linen clothes lying;...
And the napkin, that was about his head, not lying with the linen clothes, but wrapped together in a place by itself...
Then the disciples went away again unto their own home.
They really did not know what to do; the tomb was empty, but where is He?
Then arose Peter...
wondering in himself at that which was come to pass.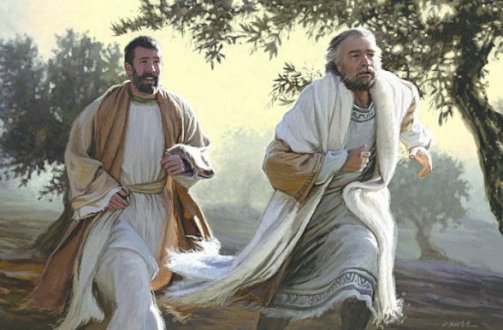 Peter and John running to the tomb (painting by Dan Burr)
Mary did not return home as did Peter and John, but remained at what is now, the empty tomb. I believe the Lord understood she wanted to know where His body lay, where can she find Him, where will she go now? All these questions in her heart, once again she had the attention of the Lord and He came to show Himself to her because He knew she wanted to know where to find Him.
John 20
But Mary stood without at the sepulchre weeping: and as she wept, she stooped down, and looked into the sepulchre,
The muffled, "Hic-hic-uhh-uhh-hic", was all you could hear for her hands covered her face as she cried, "Hic-hic-uhh-uhh-hic".
She seeth two angels in white sitting,...
And they say unto her,
Woman, why weepest thou?
She saith unto them,
Because they have taken away my LORD, and I know not where they have laid Him.
And when she had thus said, she turned herself back, and saw Jesus standing, and knew not that it was Jesus.
Jesus saith unto her, Woman, why weepest thou? whom seekest thou?
He knew she wanted to find Him.
She, supposing Him to be the gardener, saith unto Him
, Sir, if thou have borne Him hence, tell me where thou hast laid Him, and I will take Him away.
Jesus saith unto her, Mary. She turned herself, and saith unto him, Rabboni; which is to say, Master.
Jesus saith unto her, Touch me not; for I am not yet ascended to my Father: but go to my brethren,

and say unto them...
Mary Magdalene came and told the disciples that she had seen the LORD,
"...Please listen and hear what I say,
It was His voice she first heard
Those kind gentle words
Asking what was her reason for tears
And I sobbed in despair
My Lord is not there
He said, child! it is I, I am here!
I've just seen
Jesus,
Our precious Lord is alive,
And I knew, He really saw me too,
...All that I'd done before,
And I'll never be the same again."
The disciples were gathered together in fear of the Jews. One said, "The last time we were together with Jesus was on Thursday evening".
Another replied, "It was when we partook of the Passover with Jesus and after that we went to the Mount of Olives to pray. Then soldiers were everywhere and they took Him".
Then some one asked, "And now, it is Sunday, the first day of the week and Mary is stating she has spoken to the Master, and Peter and John say the tomb is empty. What does it all mean? Where is He? Has He risen from the dead?"
Then the same day at evening, being the first day of the week,

...
the doors were shut where the disciples were because they feared the Jews,
There, came Jesus and stood in the midst, and saith unto them,
Peace be unto you.
And when He had so said, He shewed unto them His hands and His side.
Then were the disciples glad, when they saw the LORD.
Oh, They were so glad to see Him alive! He's Alive!
.
..
Then said Jesus to them again, Peace be unto you...
And when He had said this,
H
e breathed on them...
Old Testament, "In the beginning...God breathed into Adam the breath of life".
New Testament, Jesus, in the New beginning, "...breathed on them...".
Just as the Lord showed Himself to Mary and then to the disciples because, "
He knew they wanted to know where to find Him", He will do the same for you.
Thank you for joining me in this journey of the Holy Week and Resurrection Sunday. I have been blessed.
xox
Blessings,
Sandi Patti- I've Just Seen Jesus