We, (the Espinoza children), learned how to work at a very young age. As with most migrant worker families, parents would take their children to the fields and set them to work or often kept them in the car while the parents were harvesting the season's crop. I worked the onion, strawberries, cucumber, and other fields to labor as an
elementary
school aged child. I do not regret this time, believe it or not, some of my most cherished memories were when we as a family were working together.
(This was not taken while we were working but this a picture of the Espinoza's. I used this picture because this is probably what we looked like with so many kids in our family when it was lunch time. Mom always took a lot of food for us and we had to drive several cars so we could get to work.)
(Eva and Myself )
I was already baptized and living a life for the Lord when at the age of fourteen a wonderful

revelation

came to me.
On one morning, I had a
waken very early to go work in the
strawberry fields in Modesto, California.
At this time in my life, I had desired to fully
understand
who the Lord was? The Psalmist wrote, "Who is this King of Glory..." Psalm 24:8.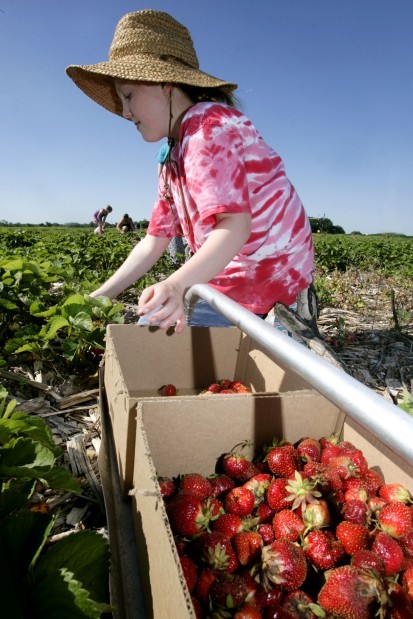 I had taken my school clothes with me and I would change in the van from wet muddy shoes and skirt to dry clean clothes, then taken to school while the rest of my family continued working. I usually slept on the way to school but not this time. I could not stop trying to understand who is the Lord, the Father, the Son and how does it all come together?
I remembered that as a child watching The Bill Cosby show, where Mr. Cosby asked a child what was their favorite part of the Bible, the little girl replied that she liked "All the begat's."
This person was born of that person, etc. Hmm, with that memory the verse John 3:16 came to mind and I saw it! "For God so loved the world that He gave His only begotten Son..." He was a son because He was born of a woman. That is what made Him the Son because to be a son you would have to be born and that is the only time the bible tells us when He was born. He was not a son coming to be born a Son. "

I am Alpha and Omega, the beginning and the ending, saith the Lord,

which

is

, and

which

was, and

which

is

to

come

, the Almighty."

Revelation 1:8, Because HE IS the One that IS (everlasting) and He WAS (still everlasting from the beginning) AND which is to come (going to come when He was born) He is the ALMIGHTY! (and He will come again for His bride!) ME!! ;D
I sat up so thrilled and exclaimed with much excitement, "I see it! I see it!"
My sister, Carol, who was driving asked me in a desperate way, "What do you see?" as she was looking at both sides of the road to find what I had seen.
"How Jesus was a son, He was a begat!!"
She had this look on her face as if she could not believe I would speak in such terms. I knew I had better explain quickly.
"He was a son because He was born", I replied.
So, I explained how I got a realization of who Jesus is! I knew Jesus was the Holy Ghost as He said "I will be in you", as the Holy Ghost! But now, I know who Jesus is!
Can you see why I get so excited when I hear about who Jesus is? Every time I hear the message of One God I see it over and over again, so plain to see. What about you? Do you know who He is? I have never forgotten who Jesus is and will never, never forget how I learned through a little girl stating what her favorite part of the bible was and John 3:16 put it all together for me. Thank God! I know WHO He is and I KNOW Him. It just goes to show what children learn stays with them.
Proverbs 22:6
Train
up a
child
in the way he should go: and when he is old, he will not depart from it.
Your answer to the Psalmist's question
Psalm

24:8
Who is this King of glory?
The LORD...
xox
Blessings,